About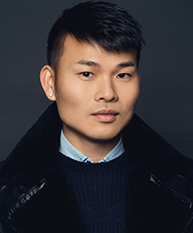 Roy Wong is an experienced professional make-up artist with a natural ability to interpret a client's needs and desires.
Whether dealing with a private client or a fashion magazine, he ensures a flawless and inspiringly beautiful finish.
Having always been a creative person. Roy found that his unique talent was best suited to the ever changing world of the make-up Industry.
Following on from the excellent training he received in the renowned The Make Up Room back in 2007,  where he laid the foundation of his make-up skill set and special effects make-up, Roy has gone on to develop his distinct personal style and finishing touches. Roy has worked with many photographers, stylists and clients from whom he has learned a great deal.
Roy's ability and success as a make-up artist comes from his years of practice while working with two of the most prestigious make-up companies in the world M.A.C and Laura Mercier. Since branching out as a freelance make-up artist back in 2013, Roy has built up an impressive and ever growing clients. Roy is signed with Distinct Models Management since 2014 as part of their creative division.
Roy has been commissioned to work on numerous advertorial and editorial shoots throughout the world from locations such as Dubai, Oman, Italy, France, Spain, South Africa, Malta, Malaysia, Germany, Austria and the United Kingdom. The creative team he has worked with knows him as a perfectionist always delivering flawless and impeccable creative make-up.
His ability to interpret and understand the needs of the client whether it's to create a dramatic high fashion look or a simple look has ensured that his talent and artistry is constantly In demand and due to his adaptability, desire for perfection and of course, his outstanding natural creative ability means his clients are assured perfection and satisfaction every time.
---
Editorial
• Irish Daily Mail (Femail Magazine)
• Evening Herald (HQ Magazine)
• Sunday Independent (LIFE Magazine)
• Irish Daily Mail on Sunday (TV Week Magazine)
• Irish Independent (Weekend Magazine)
• Social & Personal Magazine
• The Sunday World Magazine
• Irish Times
• None Magazine
• U Magazine
• GYM Magazine
• Irish Independent (Mail on Sunday)
• Xposé Magazine
• Arnotts Magazine
• Irish Independent (LINEOUT Magazine)
• Image magazine
• Galway Now Magazine
*VIP Magazine
• RSVP Magazine
• Sunday Business Post Magazine
• Irish Tatler Magazine
• Chasseur Magazine
• The Weekly Edit
• The Fashionisto
• Institute Magazine
• Beauty Scene
• Irish Brides Magazine
• Ireland's Wedding Journal Magazine
• MFI Magazine
• Irish Tatler Man Magazine
Commercial
• Victoria Square Belfast
• News Talk Radio Station
• Brandwell
• iClothing
• Diamond Design
• Crow Street Collective
• Diesel Ireland
• Scribe of London
• Ladbrooks
• Dundrum Town Centre
• Accenture
• Arnotts
• Lennon Courtney
• Dunne Stores
• L'Oréal Professional
• Kildare Village
• Canopi
• Bellissina
• Knight and Day
• Brown Thomas
• Corolyn Donnelly
• Liffey Valley
• Louis Copeland
• Kilkenny Shop
• Therapie Clinic
• Magee 1866
• Niamh O'Neill
• ALIV
• Ethical Silk Co
• Aideen Bodkin
• Rant & Rave
• Joanne Hynes